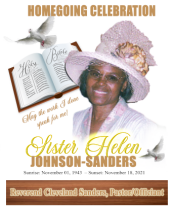 Obituary for Helen Sanders
Celebrating the Life & Legacy of
Sister Helen Johnson Sanders

The 8th child of 20 children, Helen Johnson Sanders, was born November 01, 1943 in Grady County, Georgia to the late Mr. and Mrs. Melvin Johnson, Sr. Throughout the city and beyond, she was known as a woman who loved God as it was displayed through her love of church and the desire to encourage and inspire others.

As a very young child at Travelers Rest Baptist Church, she was taught about the Lord and accepted Christ as her Lord and Savior. Helen later became a member of Union Missionary Baptist Church and faithfully served until she began to assist her husband as he was called to ministry. She later joined Antioch Missionary Baptist Church in Brinson, GA., under the leadership of her husband. She served as a part of the Minister's Wives of Bainbridge, GA and Mother of the Antioch Baptist Church Choir. In this capacity, she continued to nurture others and share her wisdom.

Pledging the promise of "Til death do us part," she united in Holy Matrimony to the Revered Cleveland Sanders on June 2, 1962. Her love and dedication to him endured throughout her life.

She was a graduate of the Class of 1962 from Hutto High School. Her professional career included employment at Lillian E. Williams Elementary School and Englehard (BASF) of Attapulgus, GA.

Seemingly never tiring, she never missed the opportunity to have fun with her grandchildren. She was known around the city and surrounding communities as a servant, always giving and sharing her talents. This same spirit was reflected even in her love for outdoor living. She spent many moments fishing, gardening, and managing the chicken farm through Cagle Produce.

She lived her life to the fullest, earned her wings and transitioned into the arms of her Savior on November 18, 2021.

Three children preceded her in death: Don Patrick, Elton McLeod, and Charolette Renee; One grandchild: Bliss Cha'Von and 14 Brothers and Sisters.

The memories shared with her will be forever cherished by her husband, Reverend Cleveland Sanders; one daughter: Tracey (Victor) Smith; one son: Corey(Brandie) Sanders. One daughter in law, Carol Sanders; one son in law, Kem Pugh; 4 brothers; Phearis(Reather), Clemmon (Grace), Bobby, Sammy(Mary) ; 5 sisters: Elouise (Alfred), Vern,Betty, Daisy, Ann (Oliver); She is also survived by fourteen grandchildren: Kimves, Dionna, Kemron, Tr'Niaya, Courtney, Corey Jr., Cam, Kendaruis, Camrin, Carmin, Camille, Carson, Conner. 3 sister-in-laws; two brother-In-laws; several nephews, nieces, cousins, godchildren and countless friends and adopted family.


Previous Events
Visitation
Bruton Mortuary
635 Bruton Street
Bainbridge, GA 39819
Graveside
Springfield Church Cemetery
0 Hwy 91 N
Baker County , GA 39870
Cemetery Details
Location
Springfield Church Cemetery
0 Hwy 91 N
Baker County , GA 39870